A Festival at Every Corner: USA Festival Guide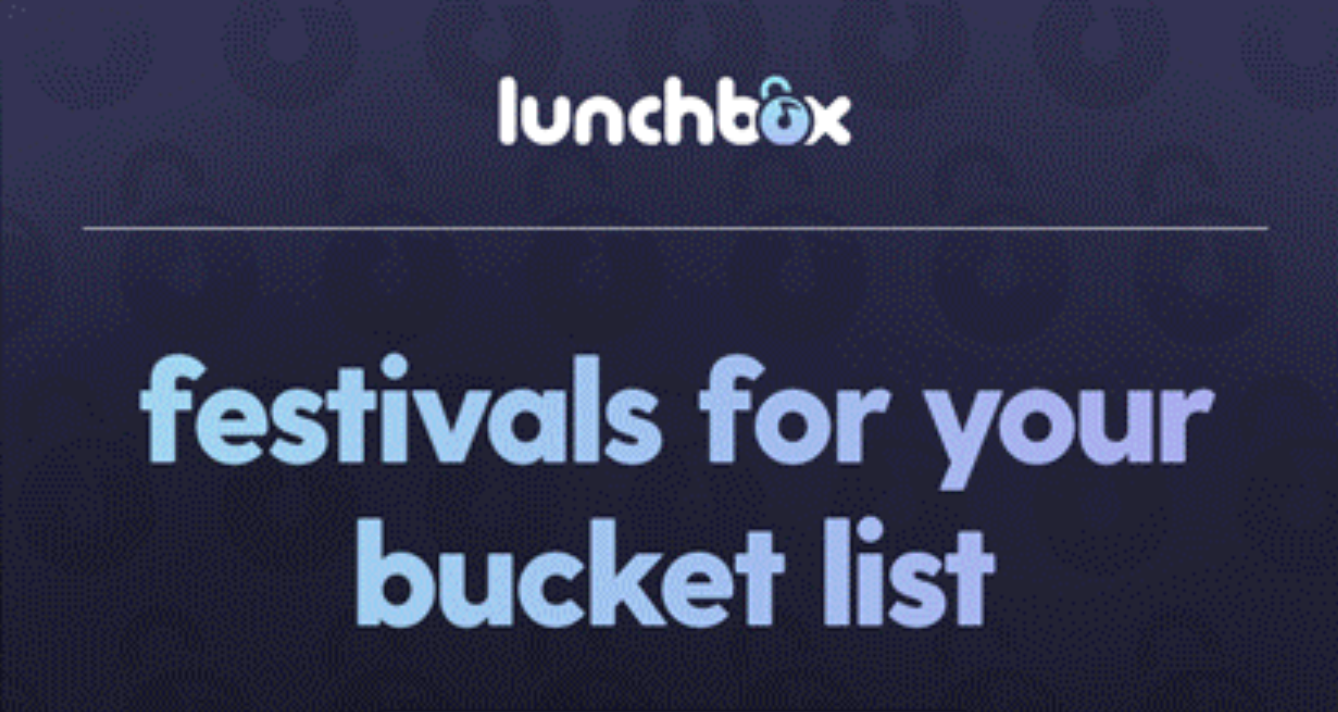 Across the United States, attendees choose from thousands of festivals to pick a few key events to buy tickets for. Usually with a group of friends and definitely a highlight of the year, your festival decision . can be a bit overwhelming to find a festival that matches your own preferences, from genres of music, to location, and of course the vibe of the crowd.

We've helped narrow down some of the best festivals happening this spring and summer by region to help you find the event that is perfect for you.

TABLE OF CONTENTS
- Northeast
- Southeast
- Midwest
- Southwest
- West
NORTHEAST:

Project Glow:
April 30-May 1, 2022 in Washington D.C.
Project Glow is making its debut this year at RFK Stadium in Washington DC. Presented by Insomniac, this lineup features a variety of genres from artists such as Above & Beyond, Alan Walker, Griz, Martin Garrix, Noizu, Seven Lions, Slander, and more.
Springfest:
May 7, 2022 in Brooklyn, NY
This one-day festival in Brooklyn is sure to fill your Saturday with great music and vibes. Catch a Jai Wolf DJ set, Audien, SNBRN, Frank Walker, and Madds while dancing your heart out.
Dreamscape:
May 19-22, 2022 in Darlington, Maryland
This camping festival in Maryland is a can't miss if you get down to dubstep, drum & bass, or experimental bass. Catch sets from Rusko, G Jones, Chee, Marvel Years, SoDown, Ternion Sound, and more.
Moonwalk Festival:
May 26-29, 2022 in Cochecton, NY
Head to this dubstep heavy lineup in upstate New York. At the home of the original Woodstock, this magical venue will provide a weekend of great art, music, and vibes. This lineup has a long list of incredible acts, but make sure to catch sets from headliners Lucii, Lucid, Shlump, and Yookie.
Governors Ball:
June 10-12, 2022 in NYC, NY
A staple of the NYC festival scene, this lineup offers an array of artists across all genres such as EDM, indie, hip hop, and alternative. Flume, Glass Animals, Jack Harlow, Quinn XCII, Still Woozy, and more will take the stage at Citi Field to bring you an unforgettable weekend.
The Circus of Life:
June 16-19, 2022 in Coeyman's Hollow, NY
This festival in New York is sure to bring a weekend full of bright lights and bass music. Catch artists like Opiuo, Rusko, G-Space, Tiedye Ky, and Ternion Sound as well as visual artists such as ClearVoid, Mezz, and Papa Bear.

SOUTHEAST:

Digital Gardens:
April 22-23, 2022 in Charlotte, North Carolina
Charlotte is the home of Digital Gardens, an outdoor venue festival that radiates good vibes. Headliners Clozee and Troyboi set the tone for a packed lineup, including Apashe, Mersiv, Of The Trees, and more!
Forbidden Kingdom:
May 6-7, 2022 in Orlando, Florida
Do you like dubstep and find yourself headbanging at every drop!? Then you don't want to miss Forbidden Kingdom in Orlando. Prepare for a weekend of heavy music, featuring artists such as Bear Grillz, Excision, LSDREAM, Kayzo, Modestep, Rezz, Wooli, and more.
Sunset Music Festival:
May 27-29, 2022 in Tampa, Florida
Head to the Sunshine State for a weekend full of good vibes and even better music! This lineup has something for everyone, including artists such as Alesso, Illenium, Jantsen b2b Tvboo, Liquid Stranger, Moore Kismet, LP Giobbi, Sidepiece, Tchami, Walker & Royce, Zeds Dead, and more.
Bonnaroo:
June 16-19, 2022 in Manchester, Tennessee
Bonnaroo captures some of the best community vibes out of any US festival! Based in Tennessee, Roo is all about radiating positivity, and there is a constant flow of it throughout the weekend. As always the long lineup showcases a wide range of talents, with something for everyone to enjoy. See artists such as J. Cole, Tool, Flume, Stevie Nicks, Lord Huron, Marc Rebillet, and more!
High Tide:
June 25, 2022 in Charleston, South Carolina
Explore the warm summer weather along the coast of South Carolina at High Tide! This lineup is sure to keep your soul warm and feet moving under the sun.
Subterranea Festival:
August 5-6, 2022 in Pelham, Tennessee
This festival takes place at the Caverns in Pelham, Tennessee. Head into a cave for a lineup filled with a jamtronic experience.
Interstellar:
August 12-14, 2022 in Sparta, Kentucky
This second year festival located in Kentucky has a lineup packed with top electronic artists and is sure to be out of this world. Catch Ganja White Night, Getter, Seven Lions, Truth, Zeds Dead, and more.

MIDWEST:

Infrasound:
May 12-15, 2022 in Ellendale, Minnesota
For the 11th year, Infrasound will bring a weekend of deep dubstep to Minnesota on a top-notch sound system. The lineup is always stacked with top producers from the underground scene, so you don't want to miss this.
Summer Camp:
May 27-29, 2022 in Chillicothe, Illinois
Summer Camp, located in Illinois, should not be overlooked! This diverse lineup will feature electronic headliners Zeds Dead, NGHTMRE, and Liquid Stranger; Rock headliners Umphrey's McGee, Moe., STS9, and much more! The community feeling of this festival will make you feel just like a kid, back at summer camp.
Movement:
May 28-30, 2022 in Detroit, Michigan
Movement Music Festival is located in the birthplace of techno for a reason. Head to this festival for a lineup packed with house, drum and bass, and most importantly- techno. The festival will highlight sets from artists like Adam Beyer, Chris Lake, Claude Vonstroke, Gorgon City, Loco Dice, and even Skrillex.
Electric Forest:
June 23-26, 2022 in Rothbury, Michigan
Nestled in Rothbury, Michigan, Electric Forest is often called one of the most magical places in the world. This festival brings incredible vibes as well as a stacked multi-genre lineup! You can catch artists such as Disclosure, Griz, Porter Robinson, Slander, The String Cheese Incident, and so much more this year. * there will be an official lunchbox meetup at Electric forest this year! *
Kosmic Kingdom:
June 3-4, 2022 in Des Moines, Iowa
This medieval themed festival brings two days of camping and dubstep to Iowa! Clozee and G Jones as headliners set the tone for the rest of the festival. See sets from Of The Trees, Shades, Ternoin Sound, Tripp St, Truth, among many other incredible artists.
Lollapalooza:
July 28-August 1, 2022 in Chicago, Illinois
Love a good party? Then you should find yourself at Lollapalooza in Chicago! This lengthy lineup contains many genres, from Doja Cat to Green Day. You can also find Duke Dumont, Glass Animals, J. Cole, Kygo, Liquid Stranger, Machine Gun Kelly, Rezz, and more.
Secret Dreams:
August 18-20, 2022 in Thornville, Ohio
Jamtronica group Papadosio brings you Secret Dreams; a festival focused on providing a complete audio/visual experience. The weekend will feature sets such as Tipper, STS9, Papadosio, Jade Cicada at the iconic Legend Valley in Ohio.



SOUTHWEST:

Ubbi Dubbi:
April 22-24, 2022 in Ennis, Texas
Ubbi Dubbi never fails to bring a diverse lineup of electronic artists to Texas! Catch Alison Wonderland, Black Tiger Sex Machine, Clozee, Excision, Gorgon City, Inzo, Kyle Walker, Mize, Ravenscoon, Sonny Fodera, William Black, and more.
Texas Beats:
April 30, 2022 in Manor, Texas
This brand new house and techno event in Austin is Wild West themed! With a house stage and a techno stage, you are sure to dance your heart out in this Ghost Town.
We Are One Festival:
May 14-15, 2022 in Houston, Texas
We Are One prides itself in bringing a celebration of inclusivity and music to Houston. This festival is sure to give you a weekend full of amazing vibes accompanied with sets by Grimes, Illenium, Japanese Breakfast, Tokimonsta and more.
Camp Nowhere:
June 10-11, 2022 in Dallas/Austin, Texas
Catch this specially curated lineup in Austin or Dallas this year. Porter Robinson, Lane 8, Nora En Pure, Fletcher, LP Giobbi, Moore Kismet, and Evan Giia set the mood for a magical night full of dance music!
Wobbleland Dallas:
July 22-23, 2022 in Dallas, Texas.
Hoping to add some headbanging to your summer? Wobbleland is sure to satisfy with some heavy hitting B2Bs such as Space Wizard B2B Smith and Aweminus B2B Neonix.


WEST:

Desert Hearts:
April 28-May 2, 2022 in Lake Perris, California
If you love house and techno, you need to be at Desert Hearts in Lake Perris, California this year! This festival brings a community together for an intimate experience with a great lineup featuring Carl Craig, Mikey Lion, Super Flu, and more.
The Untz:
May 13-15, 2022 in Browns Valley, California
The Untz Festival hosts some of the best underground electronic artists at Sycamore Ranch in California. Happening under a full moon this year, energy is sure to be high for a weekend filled with dubstep, drum & bass, and more. Catch Shades, Alix Perex, Supertask, Resonant Language, Mythm, among many others this year.
EDC LV:
May 20-22, 2022 in Las Vegas, Nevada
As the flagship of EDC, Las Vegas is the perfect place to rave under the Electric Sky! EDC will satisfy everyone, with genre centered stages to easily find music you love as well as discovering new artists and adventures. * There will be an official lunchbox meetup at EDC LV this year! *
Under Construction:
May 28-29, 2022 in Avondale, Arizona
If you like house music, make sure to check out this festival in Arizona. Featuring Fisher B2B Chris Lake among other top house producers, this is the perfect place to shuffle your heart out this year.
A&B Group Therapy Weekender:
July 22-24, 2022 in George, Washington
Above & Beyond invites the Anjunafamily to the Gorge for a weekend full of beautiful music and camping. You can catch sets from Ben Böhmer, Eli & Fur, Genix, Mat Zo, and more at the breathtaking venue in Washington.
Bass Canyon:
August 19-21, 2022 in George, Washington
Excision presents brings you Bass Canyon, located at the Gorge Amphitheater in Washington. Lineups are typically packed with top dubstep artists, including multiple Excision sets. Enjoy a beautiful view while headbanging your heart out.

No matter where you choose, you're sure to have an amazing experience at your next festival, especially if you come prepared with the right items.

See you in the crowd, fam!