ELEVATE YOUR EXPERIENCE
How to Pack Your Lunchbox Hydration Pack for a Festival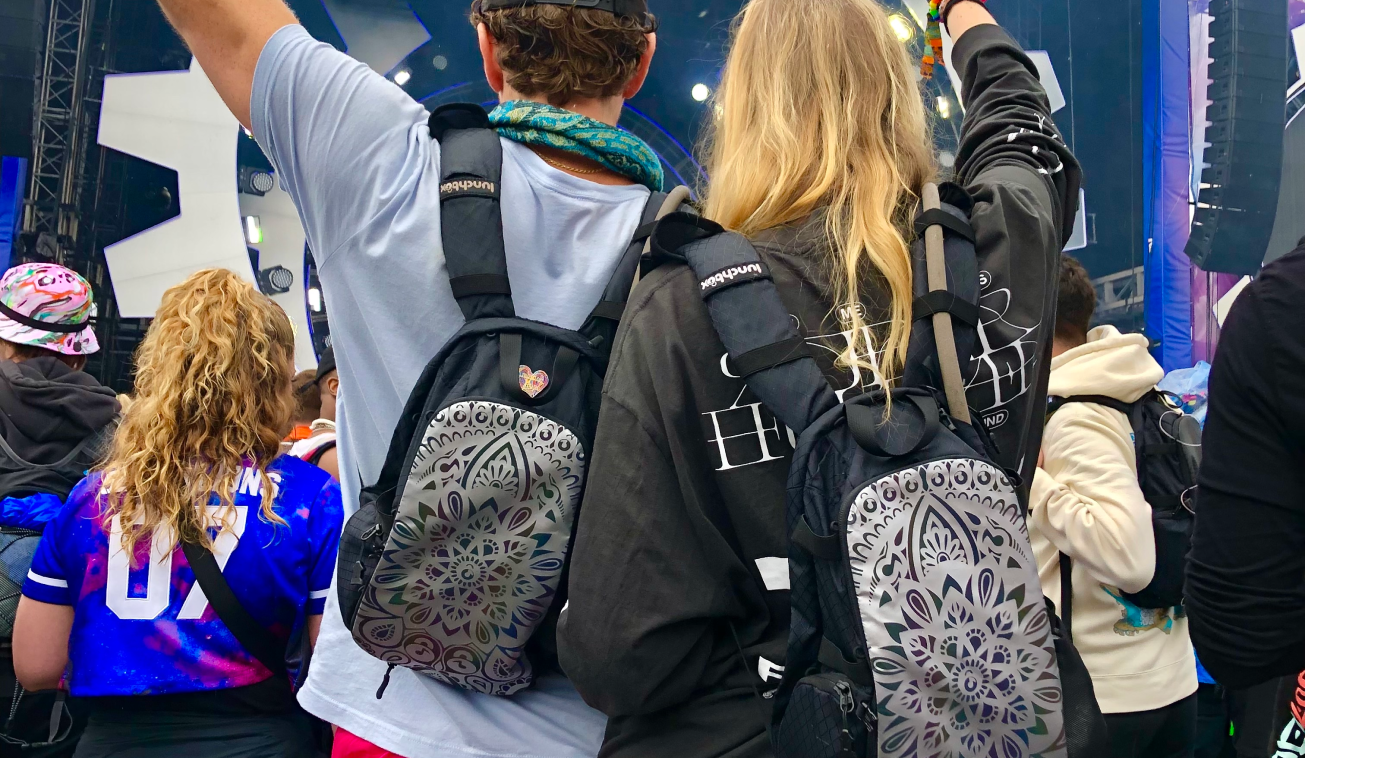 Unsure of how to pack your lunchbox hydration pack for your next festival? We got you fam! Hear from two of our very own, Bebe Howell & Garrett Winslett, on how they get their packs ready for each event. 
How Bebe packs:
When it comes to packing my lunchbox for a festival, the process really depends on what type of event I'm attending. If it's a large-scale, lengthy-hour event such as EDC Las Vegas, then you can count on me to have all of the following items ready to go.
For starters, I always keep a few essentials in the outer compartments of my lunchbox. A fan is a necessity, and it stays in the side mesh pocket. I also keep my earplugs attached in their case to the bottom strap of the pack. You can also fit a pashmina under the skin; this is a trick I always use so that I can have something to keep me warm once the sun goes down. My phone stays in its designated shoulder mesh pocket from start to finish of the event. Its anti-theft ability to hold the phone securely in place is key while it also allows me to check the time easily, and communicate with the rest of the rave fam as fast as possible. The other mesh shoulder pocket holds a pair of sunglasses, some chapstick, and a vapor inhaler. I got my current one custom-made at the potions shop in the Hangar at Electric Forest, and it's a must-have for every event now!
Moving into the bottom compartment, I always make sure to fill my lunchbox with water as soon as I get inside the festival grounds. The 2L bladder is enough to last all day/night for me, and its insulated compartment and hose helps to keep it cool throughout.
I also use this lower compartment as my "rave toys" pocket. In here you'll find my pixel whip, some diffraction glasses, and a whole bag of rubber ducks. (Yes, you read that right). Rubber ducks have been my rave toy of choice for a long time, and I love handing them out to friends and strangers alike while in the crowd during a set. It's basically my own form of kandi.
The top compartment of the lunchbox is where I store everything else. I use the two mini side pockets to store both the battery pack for my lightshow wires, and some tampons. The middle front pocket is used for a pack of gum and some wipes. The back mesh pocket is where I store my portable charger. And finally, this compartment also holds a face mask, a compact hairbrush/mirror, hand sanitizer, a hair scrunchie, some backup earplugs, and my vlog camera. Even with all of these items packed, there is still a good amount of room left! I love this compartment overall because the anti-theft features are so strong. The zippers are inverted so that they cannot be seen from the outside of the pack, and they clip together for added security as well. I always feel safe carrying items of value in here. I've never even worried about my expensive camera being kept in it.
Lunchbox has truly changed the game when it comes to packing for festivals. Every item can have its own designated compartment to keep things organized. Gone are the days of hydration packs with only one pocket that included the bladder itself. I love that I can keep all of my things at easy access when needed in the crowd.
How Garrett packs:
Do you have that one friend in your rave fam who is the human locker that holds all of your group's belongings? Yeah, that person is me. This is how I pack my lunchbox for myself and my group.
Starting with the top compartment, you can usually find my phone, 1-2 external batteries with about 2 iPhone charging cables and 1 charger for those people who have androids 🙃 Does it make my pack heavier? Yes. But I never want to catch myself in a situation where me or my friends absolutely need to get in contact with someone and we are unable to because our phones died. I use the middle front pocket to keep my ID/credit card & a pack of gum handy for anyone who may want a piece. I don't really use the 2 side pockets for anything other than a bottle of hand sanitizer, a vicks stick, or to put the inverters for the lightshow wires. 
With the bottom compartment, I use the lunchbox ice pack to cool my bladder, as well as keep my shirt or pashmina in here in case I ever get too hot. You'll also find my earplugs container hooked up to the key clip that is found under the bladder. 
For the outside of the bag, I personally don't use either of the shoulder mesh pockets as I'd rather have complete peace of mind that my belongings are safe and not able to be seen by other people. This isn't saying that the 2 mesh pockets don't work and don't serve a purpose, because they absolutely do, it's just my personal preference. I will sometimes put my pashmina under my skin in the event that my lunchbox is over packed, and don't really use either of the side pockets as well, since most of the time someone within my group has a fan I can borrow.
The most beautiful thing about the Lunchbox and this fam is that everyone's bag is going to be uniquely different and beautiful in their own way. I may not pack my lunchbox the most efficiently, but it works for me, keeps all of my belongings safe, and ensures that I am maximizing each experience that I have!
Written by Bebe Howell & Garrett Winslett, lunchbox team members.