2022 in Review, by the lunchbox team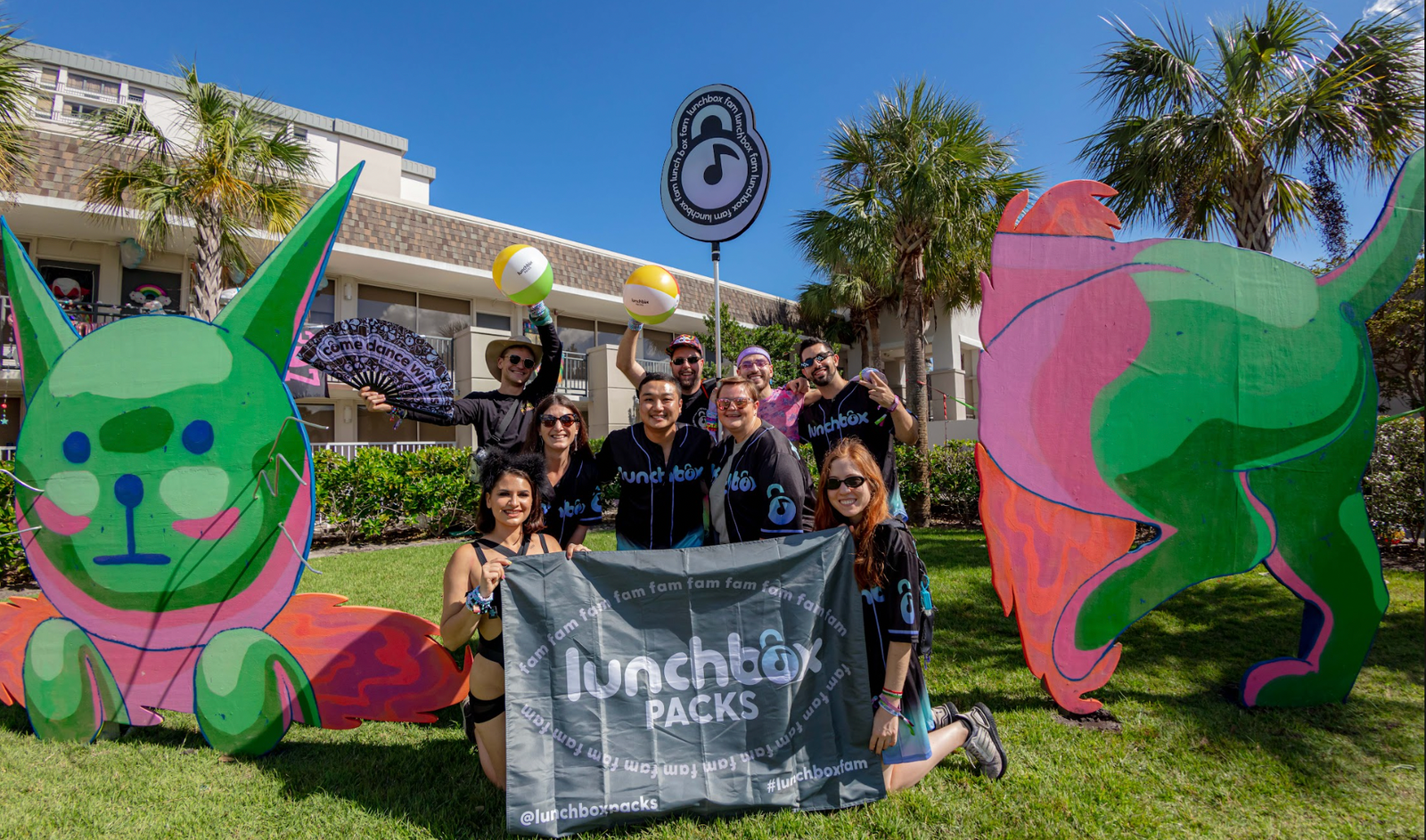 17.7K+ Packs Sold8 Fam Festival Meetups
2M+ Total TikTok Views
10K+ New Social Followers
5K+ Facebook Fam Members
2022 has truly been a whirlwind! There have been so many amazing festivals, sets, meetups, and moments, so we as the lunchbox team wanted to take a brief moment to share our favorite memories throughout this year.
Garrett  Winslett - Facebook Community Manager
Odesza Forest Hills was truly one of those "soundtrack to my life" type moments. When I left this show, my jaw was dragging on the ground in awe and I felt truly thankful for everything and everyone in my life. It made me realize why I attend these shows and festivals every year.
Jonte-Paviel Mufti - Merchandise & Operations Manager
North Coast Music Festival was the first festival I was able to share with a lifelong group of friends. For one particular friend, it was her first music festival EVER. Watching her experience the magic of the community for the first time, while sipping magnificent margaritas truly served. Making a hand heart while holding a marg is meant to be completed as a team.
Leo Wong - Senior Marketing Strategist 
This year was filled with so many new festival experiences, but the memories that stick out to me most was really just being able to lost my sh*t in the crowd and headbang with the people I love most. 
Bebe Howell - Head of TikTok & Creator Partnerships
Not to be a simp, but also to be a simp…my favorite festival memory this year has to be watching the EDC fireworks with my person. And, they played one of my favorite Dimension remixes during it, so safe to say that EDC 2022 was a win. 
Jose Rodriguez - Customer Experience Manager
Day 3. Tomorrowland. Charlotte de Witte. First woman to ever close out Tomorrowland on the main stage. Surprise, surprise, a little bit of techno. 
Nikki Adams - Social Media Manager
So right before Ultra Miami this year, I sent out a tweet to BTSM asking if I could wear their helmet. They told me I needed 1,000 retweets and I was able to do it! We had a little photoshoot when they came to Brooklyn for a show that they were having. It was such an unreal experience. They're super great people. And yes, the helmet is super heavy and so dark. I can't imagine DJin in that thing and I give them so much credit for it.
Tom Worcester - Founder & Chief Executive Officer
So, it's Sunday at Electric Forest. We're on our last legs - literally - and both Ade / Emma host an amazing meetup right in the middle of the woods. Right after, Emma goes "Oh, Porter's about to play a secret piano set, wanna come?" I'm very rarely brought to tears when it comes to music (Lane 8 being the exception) but looking around at a sea of wonderful people in a beautiful place surrounded by people I'm lucky to call my friends (so many lunchbox team at EF this year) … and I definitely bawled a bit. And it was one of the most therapeutic parts of the weekend. 
Brandon Gray - Chief Operating Officer
If you build it they will come - 2 years of hard work and dedication came to fruition when Luzcid, Champagne Drip, Peekaboo, Sully, GRex, and Cojaxx decided to show up and throw down to a little stage party we threw at Imagine Music Festival in 2022. Surrounded by a 360 degree crowd of thousands, it was the most surreal experience to see the magic that we built for the community come to life. Life is truly made of small moments like these 
Caroline Bucciero - Chief Marketing Officer
Getting to experience Electric Forest for the first time this year will forever be ingrained in my memory. Not only does it combine multiple music genres that I personally enjoy, but the magic of the forest is truly unmatched. To top it off, it was also my first time meeting most of the lunchbox team and community in person which gave a whole new meaning to being part of this extraordinary family. 
What was your favorite moment? Tag @lunchboxpacks on your favorite social channel and share your favorite rave memory from 2022.
Cheers to a wonderful 2022, and an even more amazing 2023! We wish everyone a joyous holiday season and if you're attending any live events, please be safe. We have so much in store for next year, and we can't wait to share it with the lunchbox fam.