My EDM DriveIN Experience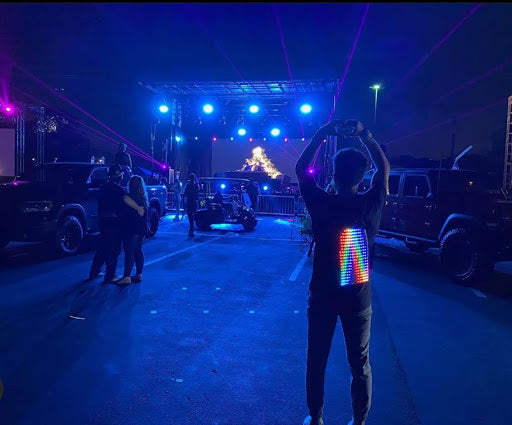 Hey fam! My name is Jose and I've been attending music festivals since 2015 and would love to share my EDM DriveIn experience with you!
We've been living in a live stream world the past couple of months, and while it has been nice to see some of our favorite DJs perform, nothing beats in person vibes and atmosphere. When I heard that EDM DriveIN was taking place in San Antonio, TX, I rounded up a couple of friends and we made the trip! 
Prior to the Event
My friends and I flew in from NYC and  Florida the day before the event on Thursday, where we rented a hotel in downtown San Antonio, just 10 minutes from the Freeman Coliseum where EDM DriveIN would take place.
When we arrived, Texas was seeing a spike in COVID cases, something that had not hit the news until we got down there. We were unsure if the event would be allowed to take place. Luckily, the EDM DriveIN team was able to comply with the city's restrictions. Everyone had to stay in their car or in the bed of their truck, so we swapped out our rental Jeep for a pickup. Check us out in this red beauty. 
Preparation 
I was the designated driver and the car was loaded up with water, snacks, redbull, beers, and seltzers. We packed these with ice in coolers purchased from a grocery store. The hot weather started melting the ice and the coolers started leaking water into the bed of the truck, so I would recommend a larger, styrofoam cooler next time. 
Ticket Structure
The tickets were sold in packs + parking passes based on your section. In order from front to back, the sections were VIP, Premium, Preferred and GA. The packs of tickets were Date packs (2 tickets) Squad Packs (4 tickets) and then a 3rd Wheel ticket which could be added on to the Date pack or Squad pack for an additional fee.
We decided to go with the Premium Squad Pack for both days which came out to about $80/person per day with parking and service fees. We ended up being front and center, which was well worth the price! 
Arriving to the Event
The event entrance was located at a specific gate # at the Freeman Coliseum. Gates opened at 6:30 but we got there early to beat the long line. The EDMDrive In team formed three lines of cars and then went around scanning each car's tickets. The first day we were given a specific colored flyer to mark Premium and on day 2 our car was marked with a "1" on the front and side windows of the drivers side. Overall, security was light as our car wasn't searched, IDs weren't checked and there were no restrictions on alcohol or smoking devices. 
As we started pulling into the event, each car was  greeted by a series of sponsors for the event. We were given goodie bags full of light up toys, stickers, coupons, and redbull. 
Passing through the sponsors, we then made it to a DJ booth coupled with a digital step and repeat screen. The DJs were hand selected by the event staff via a mix submission contest. Shoutout to our close friend Julian Clarkson aka SWVNLVKE for winning a slot! The energy of the live DJ, and the excitement of sticking one's  head out the car to take a photo put a smile on our faces  as we made our way to the parking spot.
Parking 
The parking structure was one of my least favorite aspects of the event. It did not reward early arrivals the ability to choose their location within their section. On Friday, we got lucky and were given the front and center spot in the first line of VIP, so the second day, we arrived over an hour early to ensure we could get the same spot. As I backed into the center spot, an employee came over to me and told me that I had to move down despite  being there early. I understand that it makes things easier and less chaotic to get people in, but it would've been nice to be able to choose our spot! 
Each car was then separated by 2 additional empty parking spaces to ensure social distancing guidelines were met. 
The Event
Each day, there was a combination of local and well known DJs. Friday there was Hook N Sling and Tritonal, Saturday had Kristina Sky and Cosmic Gate. Tritonal closed out Friday and Cosmic Gate closed out Saturday. There were also performers walking around and stationary throughout the show which I thought was a great touch! There were women dancing, people on stilts, and people performing with fire!
The stage itself was small compared to what you'd see at a normal festival, but that was to be expected. Production included lazers, lights, and visuals all adding to the experience. There was a main screen behind the stage and then a screen on the left and right side of the stage. Being in the front, we had the ability to hear the sound system loud and clear. If you were in the back by GA, they asked you to tune in with your radio. 
At the end of each night, the festival ended with fireworks, which was an incredible touch! 
Once the fireworks were over, the event staff prompted everyone to funnel out with their cars. It wasn't as structured as arrival, but they were persistent on emptying out the parking lot. 

Conclusion
With livestreams becoming oversaturated, it was refreshing to just be in front of a stage with live music again and feel the PLUR vibes that everyone loves and misses. 
Drive in festivals are obviously not what we want long term, but it's awesome to see how creative the EDM community has gotten creative to deliver an experience and help us relive festivals as we know it! Until next fest, lunchbox fam! ❤️