How to Braid Your Lightshow Wires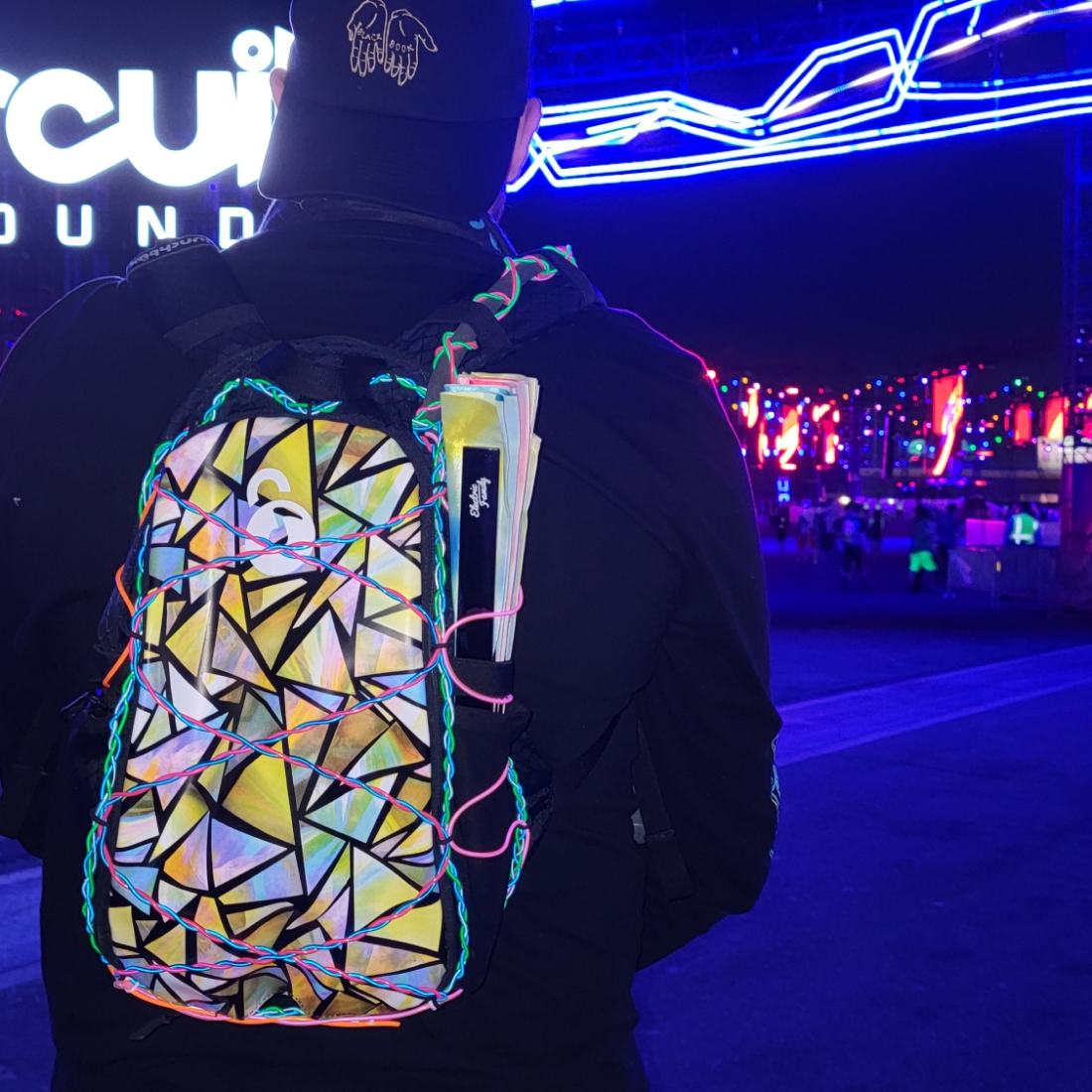 Written by Evan Tuinier, lunchbox fam member
A simple braid can really make your Lunchbox stand out in a crowd. Lighting up your pack and creating a signature Lightshow design is all part of the fun, so enjoy yourselves and get creative!
Choosing a few colors you would like is a great starting point. For my Lunchbox, my main braid consists of 3 lightshow wires. Make sure that your wires have enough length, I prefer 6 feet or longer just to be on the safe side. Pro tip- You can always trim your wires if there is a lot of left overs once finished. Next, tie off the end of the wires where they connect to the power source. This helps keep the wires an even length while braiding. 
Braiding your Lightshow wires can be a lengthy process. Get comfy with some good music, and hopefully some good company, and start braiding your wires. Intermittently cross each Lightshow wire in a braided pattern. Make sure that the braiding is tight enough and that it is as uniform as possible. During this step, take the time to occasionally untangle the other end of the EL wires to eliminate knotting. Once you're done with your braid, tie off the other end of the wires to keep your braid intact. 
Once your braid is complete, it's time to start stringing your lightshow wires onto your Lunchbox Hydration Pack. First, start by threading the braid through the top compartment opening. There is one on either side of the bag and it's the same opening that the water hose also goes through. Next, thread the braid through the first eye hole nearest the opening. It is a good idea to locate all of the wire loops at this time to ensure that you don't miss any, and that you know where they all are before getting ahead of yourself. Personally, I string up all of the eye holes on the side of the pack that lies on my back first. Once I've completely strung my Lightshow wires around the back of my pack, I bring the braid UNDERNEATH the drinking hose and cross over to the front facing eye hole loops. From there you can finish threading your braid around the rest of the pack. Once you've completed your lightshow design, put the remaining wires back into the top compartment via the top hose hole. 
Here's another tip, when stringing your wires, be sure to not cover the water refill compartment and zipper on the side. That will definitely slow you down when refilling water at your next festival. 
Finally, it's time to bring your lightshow wire creations to life with a little bit of power. Seeing that I'll be powering 3 wires, I find it best to use a 3 way splitter that then connects to a USB adapter and then connect that to my Powerbox External Battery. If I want to run additional wires on my bag, I'll typically run my extras using the AA battery inverter. I store all of my battery packs in the top compartment in the nifty pockets on each side.
From there, the sky's the limit! I've made multiple braids that I can easily string on and off my bags. I love to pair them with skins and really try to showcase how stunning the Lunchbox can be. I can't wait to see what kind of lightshow designs our fam members come up with next.